Bringing Divine
Healing Light & Love
To this World
Located on Beautiful Vancouver Island just a few minutes south of Campbell River. BC
OFFERING the FOLLOWING
INTUITIVE ANGEL GUIDED READINGS w/ Energy Healing
Intuitive Psychic Cornelia channels your Angels and Guides. Bringing you gentle, positive, inspiring, comforting, & guiding messages - Answering the questions from within your Heart.
Using gentle intentionl focus - Energy is directed to your body, helping you to balance your physical, emotional, mental & spiritual well-being. (For people & animals)
SPIRITUAL WELLNESS FAIRS
Hosting April & July weekend fairs in Campbell River, BC. Bringing together people & practioners. Psychics, Readers, Holistic Therapies, Reiki, Jewellery, Crystals, Mediums, Spiritual Gifts
SPIRITUAL WELLNESS SYMPOSIUMS
Hosting presenters to share their spiritual & wellness journeys. Some topics were Empowering Self, Colour Therapy, Intuition, Healing Energy, Spiritualism & Mediumship, Unconditional Love, & Coping Terminal Illness & much more
INSPIRATIONAL PHOTO GIFTS
Receive a personalized hardcover themed Photo Book with scenic photos, Angel inspired quotes. Inspirational Photo Notecards
CURRENTLY AVAILABLE AT LOCAL MARKETS
SPIRITUAL JEWELRY
Variety of earrings, bracelets, necklaces, pendulums, & malas. Infused with Angel healing energy
Including inspirational notes with each item
CURRENTLY AVAILABLE AT LOCAL MARKETS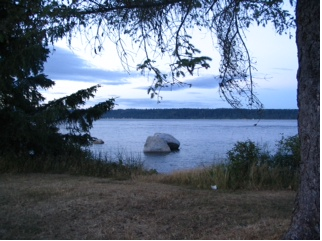 Located in beautiful Campbell River, BC on our lovely Vancouver Island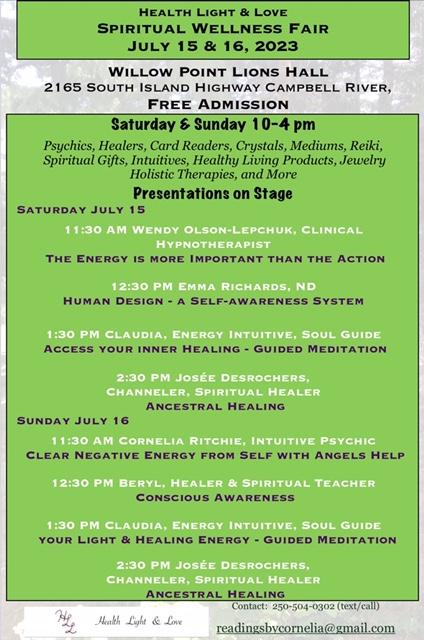 Speakers this Saturday and Sunday July 15 & 16
Wendy Olson-Lepchuk
is a Hypnotist, Master Hypnotist, Clinical Hypnotherapist, Transpersonal Hypnotherapist and Advanced Spiritual Hypnotherapist. She has been providing exceptional hypnotherapy services in Grande Prairie since early 2012.
I offer a professional, confidential and respectful environment where you can experience positive change. Clinical Hypnotherapy is remarkably effective for clients dealing with a broad range of issues. I have worked with everything from stuttering to anxiety to extreme phobias. Many of my clients particularly enjoy my deep relaxation sessions!
I work in all commonly used modalities including Parts, Regression (both Age and Past Life), Positive Suggestion and Advanced Spiritual Hypnotherapy.
I encourage you to come in and experience it for yourself. Let me show you why I believe I have the best job in the world!
Contact wendy.ol@telus.net
Topic
Saturday - "The Energy is more important than the Action"
Emma Richards
is "a 5/1 Reflector" and has spent her professional life involved with healthcare; first working in the field of biomedical engineering, and then running her own practice as a naturopathic physician.
She completed her Professional Consultant training through Evolutionary Human Design with Chetan Parkyn & Carola Eastwood.
Through her latest endeavour, Empowered Being, she engages people in deep healing: teaching them to recognize, trust, and love themselves.
You can contact her at hello@empoweredbeing.co
Topic
Saturday - "Human Design - A Self-Awareness System"
Have you ever wondered:
• How people - even siblings - can be so different from each other?
• What is it that makes one person so sensitive, when another acts like a bull in a china shop?
• Why - in the same situation - are some people nervous wrecks, while others seem virtually bombproof?
• How is it some people can accomplish things at the snap of their fingers, while others struggle mightily to get anything off the ground at all?
• Why is it that one person is consistently true to themselves, while someone else seems to become a completely different person depending on where they are and who they're with?
• How does one person remain committed to their goals in the toughest of circumstances, yet another folds up their tent at the slightest challenge?
Come and learn about Human Design and literally SEE an explanation for all these puzzling situations. We'll use charts of celebrities and historical figures to understand how an individual's unique Human Design influences the person they become.
Claudia Tressel
is an Energy Intuitive and Soul Guide, a Visionary and Dreamer, offering Shamanic Energy/Body Work, Emotional/Mental Clearing,
Reconnecting you to Truth & Love.
Contact www.waterspiritessence.com
Topics
Saturday "Access your Inner Healing Space" - This is a guided meditation, leading you to your own inner healing space - a tool you can revisit any time.
Sunday "Your Light and Heart Energy" - In this exercise and guided meditation we will explore how the power of your heart and mind can influence your life, as well as the people and places around you in a most positive and beautiful way.
Josée Desrochers
is a Channeler & Spiritual Healer at the service of the Soul.
She channelled spiritual teachings and rituals from the "Ascended Masters" and Archangels to heal the soul.
She brings light to the world and to people who wish to know the path of their Soul with the Enneagram method.
In collaboration with the Masters of Light, Josée also does Spiritual healing to release patterns that have been passed down by the ancestors and karmas from past lives.
Since many years, Josee offers individual consultations.
Contact : joseedesrochers@outlook.com
Topic
Saturday & Sunday "Ancestral Healing" - She will discuss how Ancestral Healing sessions help people release emotional programs and patterns from their ancestors. The journey of ancestral healing is one of evolution and restoration. It helps you reconnect with your power!!
Cornelia Ritchie
Need some spiritual healing? Direction? Help with navigating your life?
Intuitive Psychic Cornelia channels your Angels and Guides. Bringing you gentle, positive, inspiring, & comforting guided messages - Answering the questions from within your heart, that you need answered, today!
Health Light & Love - Bringing Divine healing light & love to this world.
She helps people to heal themselves so they can help heal others. Then brings light to their life, by opening their eyes to their own gifts & abilities. She helps guide them on how to go forward, to follow their own unique life path. She helps teach people to love themselves so that they in turn can love others with confidence.
Contact - readingsbycornelia@gmail.com, www.healthlightlove.ca
Topic
Sunday - "Clear Negative Energy from Self with Angels Help"
News, TV, Friends, Family, Co-Workers, everywhere we look we can find negative energy. It attracts to us so easily. Have you wondered what we can do to help protect ourselves? How do we clear our energy? What tools can we use? Years ago, while listening to the Angels, Cornelia was given tools that helped her. Tools that she has shared during readings to help others as well. Now you too can learn these!
Beryl
is a Healer and Spiritual Teacher. She has been doing this work for more than 30 years.. Over the years her guides have downloaded courses that she teaches as well as ascension codes to assist people to rise higher faster..most recently she was given 17 healing codes that activate stem cells.. Her guides call these..Quanta Stem Cell activation.
Contact crystalpure@telus.net
Topic
Sunday "Conscious Awareness"
Learn about our ascension that we're all taking part in right now. She believes that for this ascension we're doing..going from 3rd to 5th dimension..we need to release trapped emotions and beliefs that are out of alignment with the soul..as people start releasing those..the building of the crystalline body is then being built.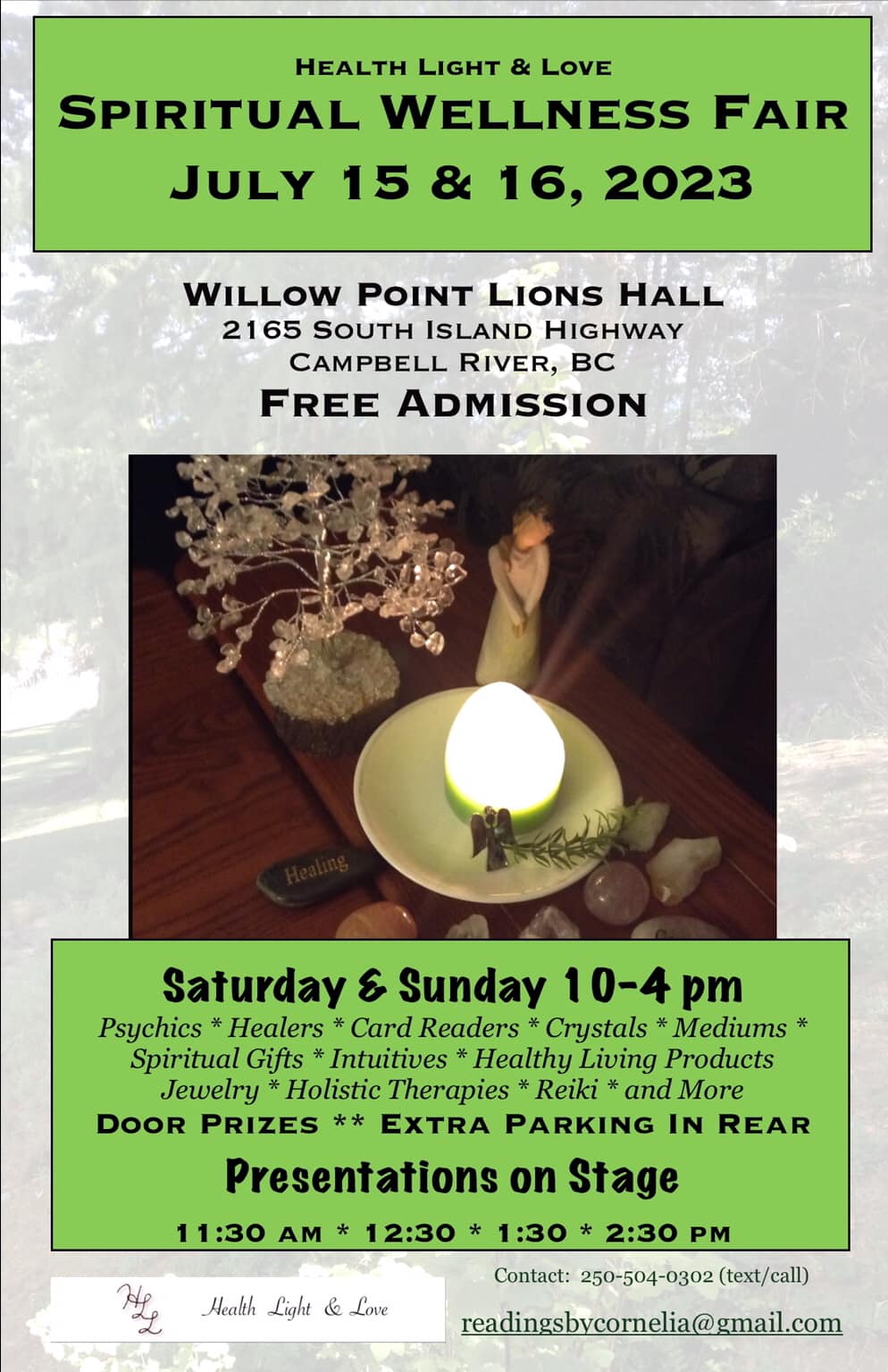 JULY 15 & 16 2023 Health Light & Love Spiritural Wellness Fair
Who will you meet? (note a few will only be her Saturday or Sunday)
Alice Gellner - Creativity Tones - sound healing etc
Audrey Cogswell - Alabaster White Tea & Tarot - Tarot reading with numerology
Beverly Michaluk - Heaven on Earth - Channeling/archangels / healing bracelets (Sunday)
Catherine Coates - Orgone Balancing - Seascape Orgone Studio - Healing, jewelry, crystal orgones
Catherine Whittall - Wrenspell Psy Studio - Psychic readings, numerology, palmistry
Christie - ETC by the Stars - Crystals & Jewelry
Connor Drader - Psychic reading and crystals (Saturday)
Cornelia Ritchie - Health Light & Love - Intuitive Angel Guided Readings
Daniel - Intuitive Readings by Dan - Readings
Ellen Hargreaves - Majestic Willow Creations - Jewelry, suncatchers, chakra bracelets
Iris Hrechka-Longpre - Just Beyond the Eye - Channeled Readings
Jeanne Freer - oracle readings
Jenna Walker - Changes by Jenna - Orgone devices, new book, crystals
Josee Desrochers - Channeler & Spiritual Healer
Joy Robinson - Earthly Elements and Gems - Jewelry, crystals, and more
Kristi Birnie - Align with Vitality - Jikiden Reiki sessions (Sunday)
Lauri Lind - Pathlight Psychic - Psychic Readings
Lisa Forryan - Inner Light Metaphsical - Tarot Readings
Lucia Brodie - Deep Peace - Intuitive readings and Healing sessions (Saturday)
Mirian Cegnar - Norwex - Cleaning without Chemicals (Sunday)
Monique McCoy - Moniques's Epicure Choices - Healthy eating
Mystic Earth Creations - Teague & Alli - Crystals & Readings
Neall Calvert - Poet, Author, Photographer
Pam Adcock - Feet First Reflexology - Foot Reflexology, associated products & crystal jewelry
Randy Miller - Haunted Coast Flutes - Hand crafted Native American Style Flutes
Sylvia Ross - Sylvia's Numinous Reiki - Reiki, chakra balancing with tuning forks, angel card readings
Tracy & Ashley Dicus - Seraphine Mystical Healing - Tarot readings & related products
Wendy Olson - Lepchuk - Hypnotherapy, Book, Glass art
Yvonne Pley - Molecular Soul Healing - Hand reflexology & car charms
Karin Koschack - Food in the Kitchen (Leaving around 2or3 pm both days)
** Services provided by Health Light & Love do not in any way or form substitute for medical or therapeutic care and attention**
Health Light & Love is a (sole proprietorship) owned by Cornelia (Connie) R. Ritchie